SAT Math Multiple Choice Question 135: Answer and Explanation
Home > SAT Test > SAT Math Multiple Choice Practice Tests
Test Information
Use your browser's back button to return to your test results.
Question: 135
15. 17s + 20t = 59
30s + 40t = 110
In the system of equations above, what is the value of t in terms of s ?
Correct Answer: C
Explanation:
C There are a variety of ways to approach this question. You could solve one equation for s or t and substitute it into the other equation, but look to see if you can do it more simply by stacking and adding (or subtracting) the equations. If you double the first equation to get 34s + 40t = 118, you can then stack and subtract the equations to eliminate t and solve for s, as follows: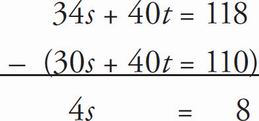 So, 4s = 8 and therefore s = 2. Now plug in 2 for the value of s in one of the equations: 30(2) + 40t = 110, so 40t = 110 - 60, so 40t = 50 and t =

= 1.25. Next, plug s = 2 into the answer choices to determine which one matches your target of 1.25: (C),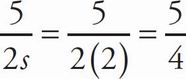 = 1.25.