SAT Math Multiple Choice Question 455: Answer and Explanation
Home > SAT Test > SAT Math Multiple Choice Practice Tests
Test Information
Use your browser's back button to return to your test results.
Question: 455
| | | |
| --- | --- | --- |
| | Bargain | High-End |
| Price (per sq. ft) | $1.89 | $5.49 |
| Rating | 2.8 | 8.2 |
| Life Expectancy | 5 years | |
5. The table above shows the price per square foot, the average customer rating (out of 10), and the life expectancy (before needing replacement) of the bargain version and the high-end version of carpet at a flooring warehouse. If the ratio of the life expectancies is roughly the same as the ratios of the prices and the ratings, about how many years can the high-end carpet be expected to last?
Correct Answer: C
Explanation:
C
Difficulty: Easy
Category: Problem Solving and Data Analysis / Rates, Ratios, Proportions, and Percentages
Strategic Advice: Find the ratios of the first two categories and then apply either one to the third.
Getting to the Answer: Write out the ratios of the prices and the ratings: 1.89 to 5.49 and 2.8 to 8.2.
Set up a proportion with the life expectancy and either ratio. Let e be the unknown life expectancy of the high-end carpet.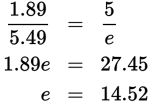 You can check your answer using the other ratio:

The high-end carpeting can be expected to last about 15 years.