SAT Math Multiple Choice Question 486: Answer and Explanation
Home > SAT Test > SAT Math Multiple Choice Practice Tests
Test Information
Use your browser's back button to return to your test results.
Question: 486
6.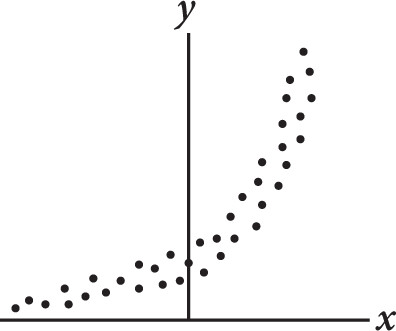 Which of the following best describes the type of association shown in the scatterplot above?
A. linear, positive
B. linear, negative
C. exponential, positive
D. exponential, negative
Correct Answer: C
Explanation:
C
Difficulty: Easy
Category: Problem Solving and Data Analysis / Scatterplots
Strategic Advice: Examine both the shape and the direction of the data to pick the best description of the association.
Getting to the Answer: A data set that has a linear association follows the path of a straight line; a data set that is exponential follows a path that is similar to linear data, but with a curve to it because the rate of increase (or decrease) changes over time. This data set has a curve to it, so "exponential" describes the association better than "linear." This means you can eliminate A and B. A positive association between two variables is one in which higher values of one variable correspond to higher values of the other variable, and vice versa. In other words, as the x-values of the data points go up, so do the y-values. This is indeed the case for this data set, so (C) is correct.