SAT Math Multiple Choice Question 487: Answer and Explanation
Home > SAT Test > SAT Math Multiple Choice Practice Tests
Test Information
Use your browser's back button to return to your test results.
Question: 487
7.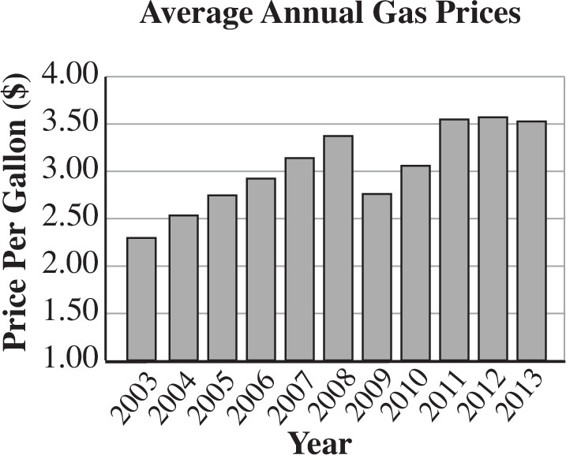 Data from U.S. Energy Information Administration.
The figure above shows the average annual gas prices in the United States from 2003 to 2013. Based on the information shown, which of the following conclusions is valid?
A. A gallon of gas cost more in 2008 than in 2013.
B. The price more than doubled between 2003 and 2013.
C. The drop in price from 2008 to 2009 was more than $1.00 per gallon.
D. The overall change in price was greater between 2003 and 2008 than it was between 2008 and 2013.
Correct Answer: D
Explanation:
D
Difficulty: Easy
Category: Problem Solving and Data Analysis / Statistics and Probability
Strategic Advice: Your only choice for this question is to compare each statement to the figure. Don't waste time trying to figure out the exact value for each bar—an estimate is good enough to determine whether each statement is true.
Getting to the Answer: Choice A is incorrect because the price in 2008 was slightly less (not more) than $3.50, while the price in 2013 was right around $3.50. Choice B is incorrect because the price in 2003 was more than $2.00, and the price in 2013 was not more than twice that ($4.00). Choice C is incorrect because the price in 2008 was about $3.25 and the price in 2009 was about $2.75—this is not a difference of more than $1.00. This means (D) must be correct. You don't have to check it—just move on. (Between 2003 and 2008, the change in price was about $3.40 - $2.30 = $1.10; between 2008 and 2013, the change in price was only about $3.50 - $3.40 = $0.10; the change in price was greater between 2003 and 2008.)