SAT Math Multiple Choice Question 640: Answer and Explanation
Home > SAT Test > SAT Math Multiple Choice Practice Tests
Test Information
Use your browser's back button to return to your test results.
Question: 640
10. The function f is defined by the equation f(x) = x - x2. Which of the following represents a quadratic with no real zeros?
Correct Answer: B
Explanation:
B
Advanced Mathematics (quadratics) HARD
Perhaps the simplest way to begin this problem is to draw a quick sketch of the function in the xy-plane, and then compare this graph to the transformations of the original function given in the choices. Notice that the original function f(x) = x - x2 is easily factored as f(x) = x (1 - x). The Zero Product Property (Chapter 9, Lesson 5) tells us that this function must have zeros at x = 0 and x = 1. Notice, also, that since the coefficient of the x2 term in the original function is negative (-1), the graph of this quadratic is an "open-down" parabola. Also, the axis of symmetry is halfway between the zeros, at x = ½. Plugging x = ½ back into the function gives us

, and therefore, the vertex of the parabola is

.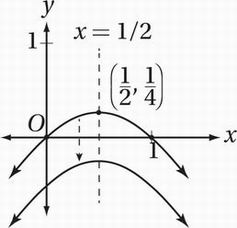 The question asks us to find the function that has no real zeros. This means that the graph of this function must not intersect the x-axis at all. Each answer choice indicates a different transformation of the function f. Recall from Chapter 9, Lesson 3, that choice (A) f(x) + ½ is the graph of f shifted up ½ unit, choice (B) f(x) - ½ is the graph of f shifted down ½ unit, choice (C) f(x/2) is the graph of f stretched by a factor of 2 in the horizontal direction, and choice (D) f(x - ½) is the graph of f shifted right ½ unit. As the sketch above shows, only (B) yields a graph that does not intersect the x-axis.