SAT Math Multiple Choice Question 682: Answer and Explanation
Home > SAT Test > SAT Math Multiple Choice Practice Tests
Test Information
Use your browser's back button to return to your test results.
Question: 682
7. The value of y varies with x according to the equation y = a(x - 2)(x + 1), where a < 0. As the value of x increases from 0 to 5, which of the following best describes the behavior of y?
A. It increases and then decreases.
B. It decreases and then increases.
C. It increases only.
D. It decreases only.
Correct Answer: A
Explanation:
A
Advanced Mathematics (quadratics) MEDIUM-HARD
The graph of y = a(x - 2)(x + 1) is a quadratic with zeros (x-intercepts) at x = 2 and x = -1. The axis of symmetry of this parabola is halfway between the zeros, at x = (2 + -1)/2 = 1/2. Since a < 0, the parabola is "open down," and so we have a general picture like this: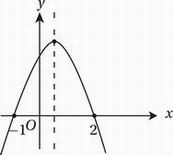 If you trace the curve from x = 0 to x = 5, that is, from the y-intercept and then to the right, you can see that the graph goes up a bit (until x = 1/2), and then goes down again.
Alternately, you can pick a negative value for a (like - 2) and graph the equation on your calculator.