SAT Math Multiple Choice Question 697: Answer and Explanation
Home > SAT Test > SAT Math Multiple Choice Practice Tests
Test Information
Use your browser's back button to return to your test results.
Question: 697
7.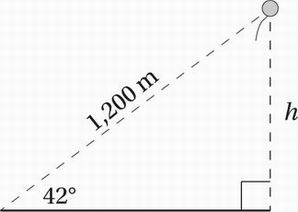 Alyssa determines that a floating balloon is 1,200 meters away from her at an angle of 42° from the ground, as in the figure above. What is the height, h, of the balloon from the ground? (sin 42° = 0.669, cos 42° = 0.743, tan 42° = 0.900)
A. 802.8 meters
B. 891.6 meters
C. 1,080 meters
D. 1,793 meters
Correct Answer: A
Explanation:
A
Advanced Mathematics (triangle trigonometry) EASY
Remember the definitions of the basic trigonometric functions: SOH CAH TOA. Since the "side of interest" (h) is the opposite side to the given angle (42°), and since we know the length of the hypotenuse (1,200), we should use SOH.

Plug in the values:

Substitute sin 42° = 0.669:

Multiply by 1,002:
(1,200)(0.669) = 802.8 = h