SAT Math Multiple Choice Question 702: Answer and Explanation
Home > SAT Test > SAT Math Multiple Choice Practice Tests
Test Information
Use your browser's back button to return to your test results.
Question: 702
12.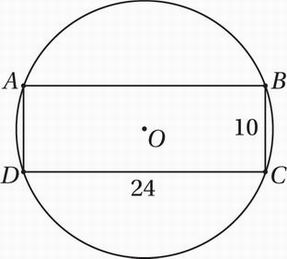 Note: Figure not drawn to scale.
In the figure above, rectangle ABCD is inscribed in the circle with center O. What is the area of the circle?
A. 26π
B. 121π
C. 144π
D. 169π
Correct Answer: D
Explanation:
D
Special Topics (circles) MEDIUM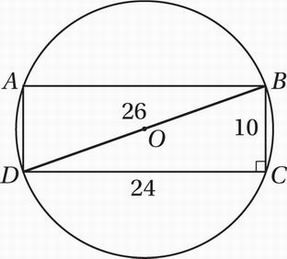 Since ABCD is a rectangle, we can find the length of its diagonal using the Pythagorean Theorem: 102 + 242 = d2. Even better, we can notice that the two legs are in a 5:12 ratio, and therefore triangle BCD is a 5-12-13 triangle. In either case, we find that DB = 26. Since DB is also a diameter of the circle, the radius of the circle is 26/2 = 13, and therefore, the area of the circle is πr2 = π(13)2 = 169π.