SAT Math Multiple Choice Question 720: Answer and Explanation
Home > SAT Test > SAT Math Multiple Choice Practice Tests
Test Information
Use your browser's back button to return to your test results.
Question: 720
15.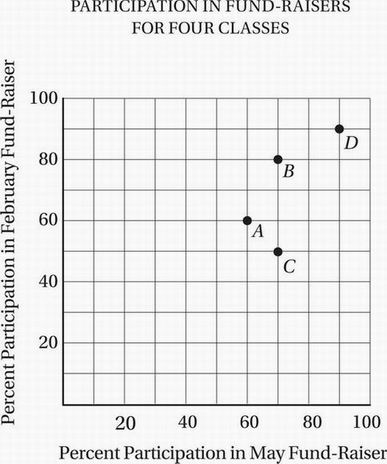 If there were 20 students each in Class A and Class C, and 30 students each in Class B and Class D, how many students participated in the May fund-raiser?
Correct Answer: C
Explanation:
C
Data Analysis (graphs) HARD
We just need to tally the number of students who participated from each class.
Class A: 60% of 20 students = 12 students
Class B: 70% of 30 students = 21 students
Class C: 70% of 20 students = 14 students
Class D: 90% of 30 students = 27 students
12 + 21 + 14 + 27 = 74 students