SAT Math Multiple Choice Question 724: Answer and Explanation
Home > SAT Test > SAT Math Multiple Choice Practice Tests
Test Information
Use your browser's back button to return to your test results.
Question: 724
4.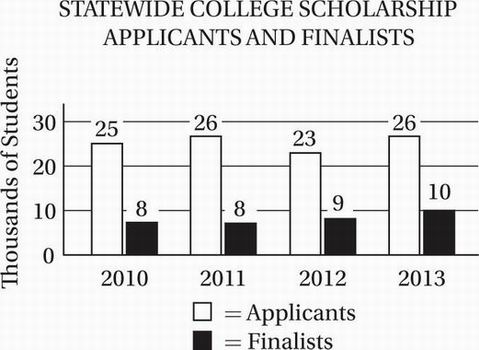 The graph above shows the number of applicants and finalists for a statewide college scholarship program over four consecutive years. For which year was the ratio of finalists to applicants the greatest?
A. 2010
B. 2011
C. 2012
D. 2013
Correct Answer: C
Explanation:
C
Data Analysis (tables) EASY
The ratio of applicants to finalists is simply the quotient of those two values, which we can calculate for each year.
(A) 8/25 = 0.32,
(B) 8/26 ≈ 0.31,
(C) 9/23 ≈ 0.39,
(D) 10/26 ≈ 0.38.