SAT Math Multiple Choice Question 730: Answer and Explanation
Home > SAT Test > SAT Math Multiple Choice Practice Tests
Test Information
Use your browser's back button to return to your test results.
Question: 730
10.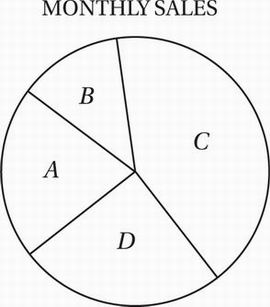 The pie graph above represents the monthly ad sales for four salespeople-Maria, Eli, Georgia, and Zoe-at a social media website. For the month, Maria's sales accounted for 25% of the total, Eli had $3,000 in sales, Georgia had $5,000 in sales, and Zoe had $10,000 in sales.
What is the sum of the monthly sales for all four salespeople?
A. $22,500
B. $24,000
C. $25,000
D. $27,000
Correct Answer: B
Explanation:
B
Data Analysis (pie graph) MEDIUM
Perhaps the simplest way to approach this is to notice that, since Maria's sales account for 25% of the total, the other salespeople must account for 100% - 25% = 75% of the total. Since this total is $3,000 + $5,000 + $10,000 = $18,000, we can find the total with a proportion.

Cross multiply:
$1,800,000 = 75x
Divide by 75:
$24,000 = x