SAT Math Multiple Choice Question 757: Answer and Explanation
Home > SAT Test > SAT Math Multiple Choice Practice Tests
Test Information
Use your browser's back button to return to your test results.
Question: 757
7.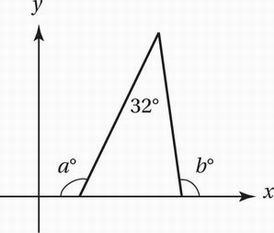 In the figure above, what is the value of a + b?
Correct Answer: A
Explanation:
A
Additional Topics (triangles) MEDIUM
It helps to mark the measures of the other two interior angles to the triangle as c° and d°, because we know something about these angles.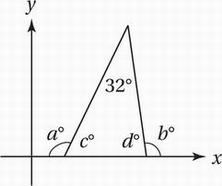 Since angles in a triangle must have a sum of 180°:
c + d + 32 = 180
Subtract 32:
c + d = 148
Since angles in a linear pair have a sum of 180°:
a + c = 180
b + d = 180
Add previous two equations:
a + b + c + d = 360
Subtract c 1 d 5 148: