SAT Math Multiple Choice Question 868: Answer and Explanation
Home > SAT Test > SAT Math Multiple Choice Practice Tests
Test Information
Use your browser's back button to return to your test results.
Question: 868
13. Five numbers are given by the expressions x, 2x - 3, 2x + 1, 3x - 4, and 3x + 1. If the average (arithmetic mean) of these numbers is 10, what is the mode ofthe numbers?
A. 10
B. 11
C. 12
D. There is not enough information to determine the value of the mode.
Correct Answer: B
Explanation:
B
Difficulty: Hard
Category: Problem Solving and Data Analysis / Statistics and Probability
Strategic Advice: Try not to overthink a question like this-instead, use what you know about finding an average and see where that takes you.
Getting to the Answer: The average of a set of values is the sum of the values divided by the number of values. Use this definition along with the average given in the question (10) to solve for x: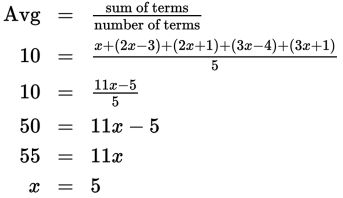 Now, substitute 5 for x in each of the expressions: 5, 2(5) - 3, 2(5) + 1, 3(5) - 4, and 3(5) + 1 give the numbers 5, 7, 11, 11, and 17. The mode of a data set is the number that occurs most often, which in this case is 11. This means (B) is correct.