SAT Math Multiple Choice Question 897: Answer and Explanation
Home > SAT Test > SAT Math Multiple Choice Practice Tests
Test Information
Use your browser's back button to return to your test results.
Question: 897
12.

Which of the following is equivalent to the expression above?
Correct Answer: D
Explanation:
D
Difficulty: Medium
Category: Passport to Advanced Math / Exponents
Strategic Advice: Questions that involve "complex" fractions (fractions within fractions) require patience and strategy. Ignore the big "1 over" part initially. If you rewrite the messy denominator as a single fraction, then you can simply "flip it" to get the final answer.
Getting to the Answer: To combine the two terms in the denominator, find the least common denominator, (x - 4)(x + 6), and write each term as a fraction with that denominator. Then, simplify as needed by using FOIL and combining like terms: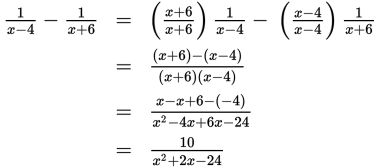 Don't answer too quickly! You still need to take the reciprocal of the simplified expression to perform the final "1 over" part of the original expression, making (D) the correct answer.