SAT Math Multiple Choice Question 956: Answer and Explanation
Home > SAT Test > SAT Math Multiple Choice Practice Tests
Test Information
Use your browser's back button to return to your test results.
Question: 956
8.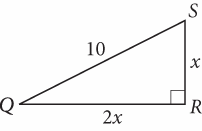 In the figure above, what is the area of ΔQRS?
A.
B. 10
C.
D. 20
Correct Answer: D
Explanation:
D
Difficulty: Medium
Category: Additional Topics in Math / Geometry
Strategic Advice: Treat the variable lengths as you would number lengths; the same rules and theorems still apply.
Getting to the Answer: The area of a triangle is given by the formula

. Before you can use the area formula, you'll need to use the Pythagorean theorem to find the lengths of the base and the height, 2x and x: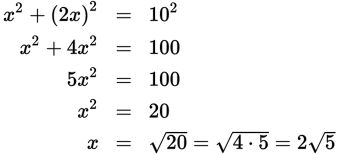 The height (x) is

, and the base is twice that, or

. This makes the area of the triangle
, which matches (D).