SAT Math Multiple Choice Question 957: Answer and Explanation
Home > SAT Test > SAT Math Multiple Choice Practice Tests
Test Information
Use your browser's back button to return to your test results.
Question: 957
9.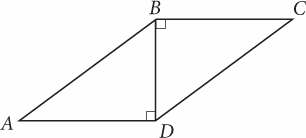 Note: Figure not drawn to scale.
If

and

, what is the length of side AB?
A.
B. 12
C.
D. 18
Correct Answer: D
Explanation:
D
Difficulty: Medium
Category: Additional Topics in Math / Geometry
Strategic Advice: Whenever you're given a figure, transfer as much information as possible from the question to the figure, and then label the figure with any additional calculations you make.
Getting to the Answer: Because

, ΔBDC is an isosceles right triangle (and therefore a 45-45-90 triangle). You're told that the two legs both measure 6, which means that hypotenuse

measures

. You also know that AD = 2CD, so

. Next, use the Pythagorean theorem to find AB: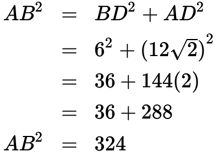 So

, making (D) the correct answer.